Prevent illegal copies and sharing of your content
The secure, encrypted container allows access to the content only if the protected USB stick drive is available or the content has been unlocked via UnlockCode. At the same time, it blocks all unauthorized access attempts such as file copy or saving to hard disk.
Works with regular USB sticks or flash drives
There is no special requirement besides that you need a Windows PC and of course a regular USB stick/flash drive. ProtectUSB Content work with USB sticks from all brands and vendors. You can use any USB stick you have available. Even for bigger production jobs, it is not required to have identical sticks for a certain brand.
Optionally make USB sticks/flash drives read only
ProtectUSB Content allows you to add software (all vendors) and hardware (multiple vendors) write protection to the USB sticks you duplicate. This way, it is impossible to modify the sticks or delete the content from them.
Supports Windows, macOS, Android and ChromeOS
The protected content works on Windows PCs, macOS computers, Android devices and ChromeOS computers with Play Store. The locked content on the USB stick is completely self-contained and does not install any drivers or require administrative privileges at any time. Just package the content once and allow your customer to access it securely from any compatible device they own.
USB stick/flash drive verification or code unlock
You can allow accessing the content directly from the USB stick/flash drive or allow installing/copying it to a computer or device. In any case, the content is securely locked to the USB stick/flash drive or to an individual UnlockCode. Without the original USB stick/flash drive or UnlockCode, the content is not accessible and can't be copied.
Write 100+ USB sticks/flash drives in parallel
With ProtectUSB Content you can use regular PCs and USB hubs to write in parallel to 100+ USB sticks. This way you can easily duplicate thousands of sticks per day - with the highest speed, copy protection, write protection and verification.
Use your own design
With ProtectUSB Content, you can largely customize the experience and presentation of your content. Create your own HTML startup, define a custom splash screen and use your own icons. Everything you need for a professional product is right there.
Easy to use - just two steps
Creating a protected USB stick/flash drive with your content is quick and easy. Just prepare the content using the Content Preparer and write it to USB stick using the USB Protect tool.
1. Protect the content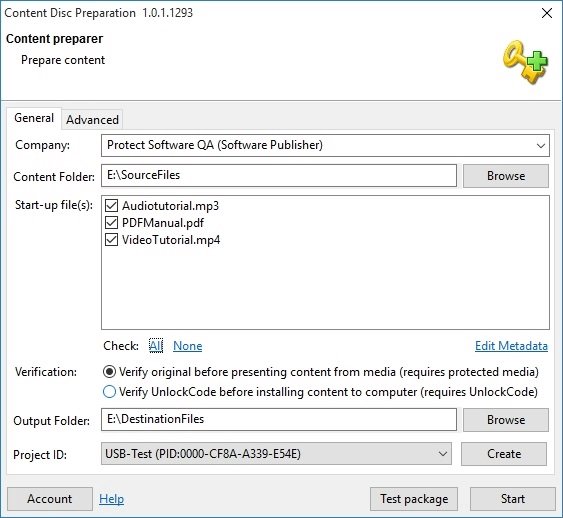 2. Write USB sticks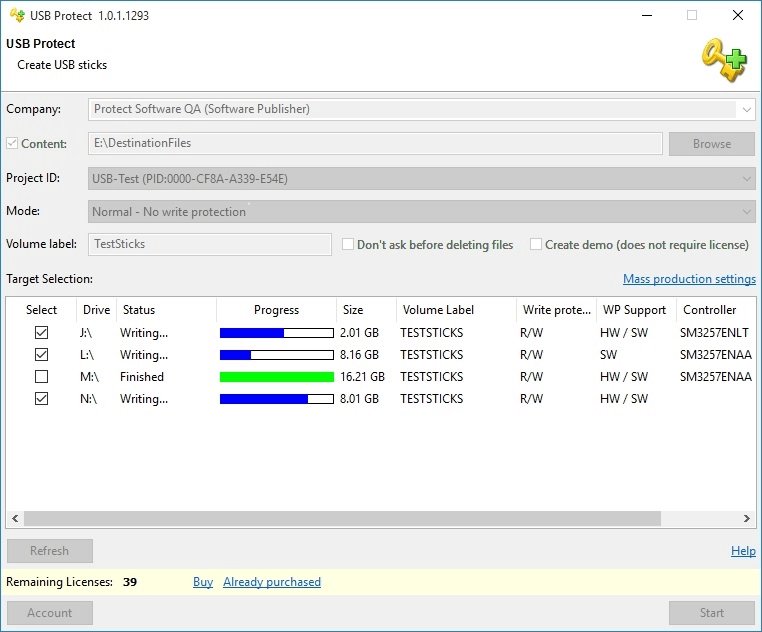 Free trial
Download (includes free trial)
You can try ProtectUSB Content free to see how it works for you. 
---
All software offered for download on this website is subject to our end user license agreement (EULA). It is scanned against viruses and contains no malware, adware or other malicious code. It can be uninstalled by using the included uninstaller or using the operating system's default software uninstall option.